Livestream on Detroit Public TV and Facebook – Monday, August 2nd, 2021
Streaming link – Click Here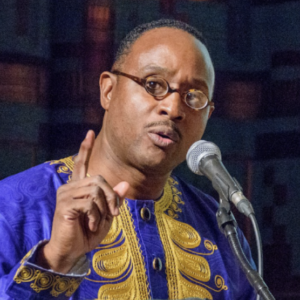 The Concert of Colors Forum on Community, Culture & Race, one of the Arab American National Museum's signature annual events, is a dynamic gathering of artists, activists and advocates who use art and dialogue as a tool for advocacy and community building. This year's program will be presented virtually online. Breaking bread together is a tradition during this signature event; we hope you'll tune in during dinner!
The Forum's theme this year, What is Democracy? | The artists respond., speaks directly to this year's theme of the festival, Art & Democracy. 
Charles Ezra Ferrell is Vice President for Development and Global Programs at Keiga Foundation headquartered in Roseville, MI, with operations in Kampala, Uganda and Kassel, Germany. Ferrell is responsible for developing international and regional cultural exchange, literacy and social justice programs, in addition to expanding institutional partnerships and charitable giving.
He is also Managing Director for Non-Profit Consultancy at The CMC Group in Roseville, Michigan.
​
Ferrell was recently Vice-President for Public Programs and Community Engagement (2016 – 2020) at the Charles H. Wright Museum of African American History in Detroit, MI (where he began as a volunteer and consultant in 2012). His extensive programming portfolio of over 900 programs received international acclaim from leading scholars, activists and patrons for its quality and cultural relevance.​
– To get more information about the Concert of Colors and all of the details regarding the event:
  
Click Here
In Partnership with