Advancing Children's Cultural Literacy in Michigan
made possible in part by a grant from the Michigan Humanities, an affiliate of the National Endowment for the Humanities
"Advancing Children's Cultural Literacy in Michigan" is centered around providing black and brown students in Detroit the opportunity to read books that directly speak to their cultural experiences and foster a deep sense of confidence, self-affirmation, and groundedness. 
We will re-publish two fascinating children's books authored by Dr. Walter Anthony Rodney (March 23, 1942 – June 13, 1980) and develop a virtual program including introductions to the books and readings by Dr. Walter Rodney's family.
The books and virtual programs will be distributed to select schools and organizations in Detroit so they can distribute widely in the community.
In communities like Detroit, whose population is 79 percent black, students are denied the opportunity to grow up grounded in their own cultures. This lack of black and brown-centered learning leads to a lack of self-confidence, self-affirmation, and cultural competency. The books provide readers (children and adults) with historical, geographical, and cultural experiences and lessons, using a relatable narrative format.
In the introduction to Kofi Baadu out of Africa, Dr. Rodney wrote, "This collective effort hopes to make a modest contribution to revealing further aspects of our rich and varied heritage, so that children, at least, might better understand themselves and each other."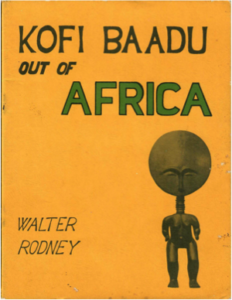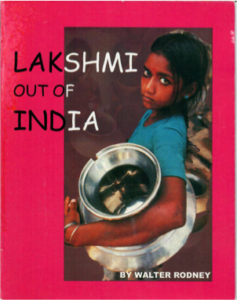 The goals of this project are to make accessible to the current generation of youth the children books authored by the internationally renowned scholar, historian, professor, and social justice activist Dr. Walter Rodney. 
By making these children's books, school curriculum, and virtual content available to the current generation of children, "Advancing Children's Cultural Literacy in Michigan" hopes to improve the quality of cultural education students receive and increase the amount of education students who are people of color receive that represents their own cultural experiences.
We hope these books will foster meaningful and transformative learning and conversations throughout the State of Michigan.
The development of the online reading of these books will broaden the global reach and impact of this project and assist teachers in Michigan and throughout the nation and the world in replicating the goals of "Advancing Children's Cultural Literacy in Michigan."
This program is made possible by a collaboration between leading Detroit-area non-profit cultural, educational, and community-based organizations and institutions: The James and Grace Lee Boggs School, Detroit Independent Freedom Schools Movement, Legacy of Literacy, Inc., The Walter Rodney Foundation, Urban Press, and Broadside Lotus Press, with experts Dr. Gloria House, Dr. Sharon Howell, and Dr. Patricia Rodney.

Kindly Get In Touch Or Send Us A Contribution
If You Want To Help Us Or Join The Keiga Foundation Family.