June 19, 2020 | Written by Julie Hinds
Detroit's Wright Museum is one of the six participating sites. It is contributing "Freedom: Breaking the Chains," a dance performance by Jonas Byaruhanga, who directs the Keiga Dance Company in Kampala, Uganda.
Charles Ferrell, the Wright Museum's vice president for public programs and community engagement, curated the segment. The museum is getting help from Detroit Public TV to make the event available to 1,500 libraries.
​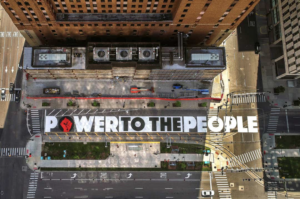 Ferrell says he wanted the dance to reflect the global diaspora of Black men and women, and "to show a movement of humanity from being enslaved to freedom, (called in the dance piece) 'breaking the chains.' "​​​
According to Ferrell, it's going to take a building of broad coalitions to stop systemic racism and fulfill the American promise of freedom for all.That will require participation by corporations, civic groups, individuals and more — and he wants Detroit to help lead the way.

"This Juneteenth celebration is pulling together major institutions to have a single voice around the need for freedom, justice and democracy," says Ferrell. "And Detroit, being the most populous African American city in the country, an epicenter of COVID(-19), we have to speak out against injustice."
– To get access to the full article published by Detroit Free Press:​​
Click Here
– The following link takes you to our Juneteenth program:​​