A Performance Featured by Detroit Public TV
June 19, 2020 | Detroit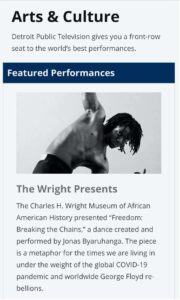 The 2020 US national celebration of Juneteenth was especially significant against the backdrop of a highly contentious presidential campaign, the culture shifting disruptive and devastating COVID-19 pandemic and the series of state brutal murders of African Americans men and women by the State that erupted into seismic national and global uprisings after the videotaped police murder of George Floyd. 
Yet museums and non-profits continued to find resilience through creating new innovative pathways to collaboratively deliver exciting and highly impactful programming. 
For the first time six leading national museums curated respective programing segments that were edited into an extended program and delivered to the nation via a newly launched website: blkfreedom.org and cross-posted on their websites. In addition, they partnered with Detroit Public Television and PBS Books to reach over 90,000 participants.
The featured performer was Ugandan Chorographer and Artist Director of the Keiga Dance School and Keiga Dance Company Jonas Byrauhanga. The focus on connecting Africa (through Uganda) to the US was of immense relevance at this moment in history. Jonas' performance was simply riveting.  
– "Freedom: Breaking the Chains" performance by Jonas Byaruhanga ​​​
  Click Here
In Partnership with: